Contract Manufacturing:

Tenda Groom Pet Products, offers in-house contract manufacturing. Whether you have grown out of your current facility or want to take your pet product to the next level we can help. Using your formula we will manufacture, fill, cap and label your dog, shampoo, conditioner, ear wash or dog mouth wash. Once filled we will label, package and ship the finished product to your warehouse, distributor or large customers. We are a professional manufacturer and your confidentiality is guaranteed!

We currently offer the manufacture and finishing of the following product types:

Blisters/Counter-Irritants (Fill Only)
Body Wash
Breathing Aids
Calming Aids
Electrolyte Paste
Isopropyl Alcohol (Fill Only)
Heel Salve
Homeopathic Immune System Supplements
Hopple Chafe

Hoof Dressing
Hoof Freeze
Hoof Packing
Hoof Polish
Leather Care Liquids and Sprays
Leg Brace
Leg Clay
Leg Paint
Leg Sweat
Leg Tightener

Liniment
Liquid Soap (Fill Only)
Lotions
Oral Paste Syringes
Pre-Race Pastes
Shampoo (Fill Only)
Thrush Remedies
Topical Remedies
Topical Grooming Liquids and Sprays
Find out how Tenda Groom Pet Products can help your business - contact sales@tendagroom.com today!
Featured Testimonial:

"Smallville"

"I put your shampoo to the test last night. My Springer Spaniel found some deer droppings and she rolled ALL in it. She stunk bad! Well, we used your Oatmeal & Aloe shampoo Usually I have to wash her twice when she does stuff like that, but not with your shampoo. I was amazed how the smell was quickly (and thoroughly) gone and how clean and soft she was. So wanted to let you know "well done!" - TA, Ohio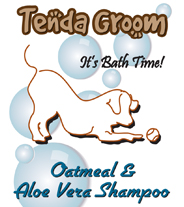 ---
Do you love our Products?

Submit your own product testimonial
for a chance to appear on our homepage and be our next star!

Submit a testimonial.